Discussion Starter
·
#1
·
Me and Challacombe headed out Friday night late to try to catch a few hogs. He and our friend Lance caught a really big boar last Sunday at the end of a cut milo field, so that's where we started. Nothing happening there, so we went on to a different spot a mile or so down the road & dumped the dogs again. Good thing we dumped the whole box, they struck nearly immediately and bayed this nice boar a few minutes later. This guy had some really good knives on him. Amazingly, the dogs were nearly completely untouched by those teeth. They had a couple of very small pokes, but no serious damage. He was bayed up in a very thick cane patch. If I had known what he had in his mouth, I doubt I would've charged in so hard & fast to the bay.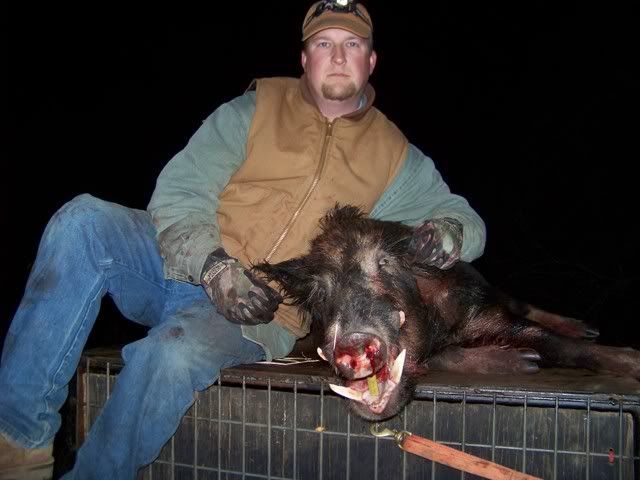 We loaded the dogs and went to a spot closer to the river where there used to be peanuts planted. The field is now in wheat, but the hogs are still hitting it hard. Again, the dogs struck nearly immediately and after a mile long race, they bayed about a 1/4 mile off the road in the thick stuff. We had to climb/crawl/claw our way in through some nasty brambles, but got in there to stick this little boar.
Corry and I were some whipped sumbitches & wanted to head to the house. We caught everybody but his Blazer dog, and headed to the truck. Blazer wasn't havin' none of it. He struck and bayed tight on another hog. We had walked nearly all the way back to the truck when he bayed, but turned everybody loose again & caught another small boar. It was a darn long walk there & back, but the dogs were having a great hunt & we were right in there with em!!!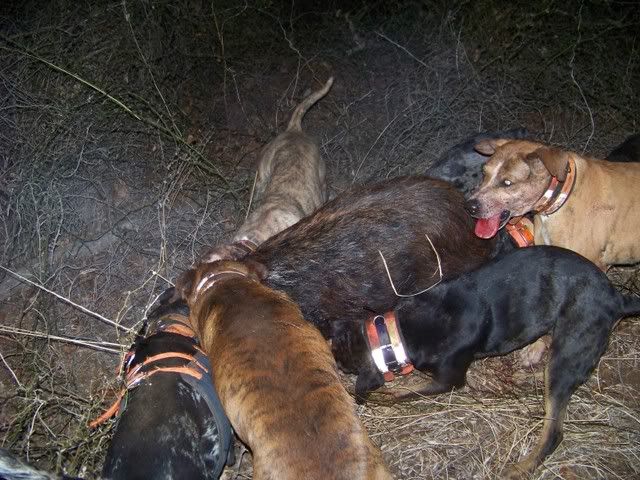 The dogs handled all of these hogs rather easily, and despite the good cutters on the first boar, nobody got cut badly. We took 1st street dogs Blazer, Razor, Easy & their catchdog Johnson. I brought Pepper, Dan & Ann. The dogs all worked his butts off and did a fantastic job. Easy and Pepper are the only 2 green dogs out of everything we took, and they both did really well. It was a great night to be out hunting, and the dogs made the best of it. I got home about 3am, a whipped tired son of a gun.
Anybody who doesn't call hog hunting a sport, has never tried to do it on foot. I'm getting in shape chasing after these dogs! It's much easier in the pickup or on a 4 wheeler, but our dogs just don't seem to allow it all the time. They bay hogs up in the rough stuff, where the truck and wheeler just can't get to.